ANTIQUE CLOISONNE WALL POCKET VASE, BUTTERFLIES w/ METALLIC, INTRICATE PATTERN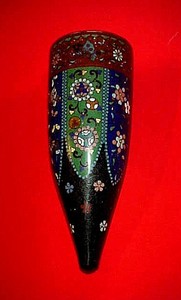 ---
 

  JUST OBTAINED FROM AN AMAZING PRIVATE ESTATE COLLECTION

 IN PITTSBURGH  PA., 

NEVER BEFORE ON THE OPEN MARKET,

BEING SOLD AT AUCTION WITHOUT RESERVE TO SETTLE THE ESTATE

AGREEABLY FOR HEIRS..   BEST OF LUCK BIDDING!!!!!!!

 BEING OFFERED IN THIS AUCTION IS A WONDERFUL ANTIQUE 19th CENTURYVICTORIAN ERA, JAPANESE CLOISONNE WALL POCKET.  BEAUTIFUL COLOR BLOCK PANELS FASHION INTRICATE PATTERNS OF BUTTERFLIES, FLOWER HEADS & FOLIAGE FORMS. BRONZE / COPPER TONE METALLIC ENAMELS DECORATE THE TOP BAND AND ACCENT THROUGHOUT THE PIECE.ALL THE DECORATION IS RICHLY DETAILED & BRIGHTLY COLORED CLOISONNE ENAMEL. THE INTERIOR IS A RICH PERSIAN BLUE ENAMELA BRASS / BRONZE RECTANGLE IS SITUATED ON THE BACK OF THE POCKET FOR HANGING. CRAFTED BY THE HANDS OF A MASTER.  AS SHOWN,  EXCELLENT ORIGINAL CONDITION WITH NO BREAKS, DAMAGES ETC.. AS WELL AS A RICH PATINA. THE POCKET MEASURES;  7 1/2" HIGH  X  2 7/8" DIA, OVERALLWE WILL HAPPILY COMBINE SHIPPING.  

Original as found. We never attempt to alter or clean an existing patina,

All items are offered for sale in the condition they are consigned,

leaving all decisions about cleaning and restorations up to you the experts.

Excellent condition, NO damages NOT mentioned.

Bid confidently!!   

 

                                                                                                                                                                                                                                                                                                                                WE STRIVE TO DESCRIBE EVERYTHING TO THE BEST OF OUR ABILITY, BUT IN NO WAY PROFESS TO BE EXPERTS IN ANY PARTICULAR

CATEGORY.  PLEASE FEEL FREE TO ASK QUESTIONS PRIOR TO BIDDING.  UNTOUCHED AND ORIGINAL.

ANY AND ALL ITEMS ARE BEING SOLD "AS IS, AS FOUND"  WITH NO ATTEMPTS TO CLEAN REFRESH OR TAMPER WITH AN

EXISTING PATINA OR CONDITION, LEAVING ALL OF THESE CRITICAL DECISIONS UP TO YOU THE EXPERTS.

Please read "CONDITIONS DESCRIPTIONS"  above each listing for details. BID CONFIDENTLY  & Don't miss out!!